Join us for The Peddler Show on June 19-21, 2020!
All Tickets Must Now Be Purchased Online. For the safety The Peddler Show customers, vendors, and staff, ticket sales will NOT be available onsite. Purchase your tickets in advance from your computer or phone.
The Peddler Show returns to Richard M. Borchard Regional Fairgrounds June 19-21, 2020 for a unique holiday shopping experience! You can shop from talented designers, artisans, creators and craftsmen from all over the country! Now is the time to shop for all of those items on your holiday shopping list! With customization and personalization onsite, you will find anything and everything you are looking for at The Perfect Street of Shops. It's THE Texas Shopping Tradition…It's The Peddler Show in Robstown!
The Peddler Show New Procedures:
Wider aisles
More spacing for booths
One way aisles
Sanitizing stations
Hours:
Friday: 12pm-6pm
Saturday: 9am-6pm
Sunday: 11am-4pm
Ticket Information:
In order to monitor daily attendance The Peddler Show has tickets for individual days, kids tickets and free admission tickets are good for any one day.
Admission Prices:
Friday: $5
Saturday: $5
Sunday: $5
Kids 12 & Under: FREE
FREE Admission for Teachers, Military, First Responders and Medical Professionals.Register for your ticket and present with proper ID at the gate for free admission.
FREE PARKING!!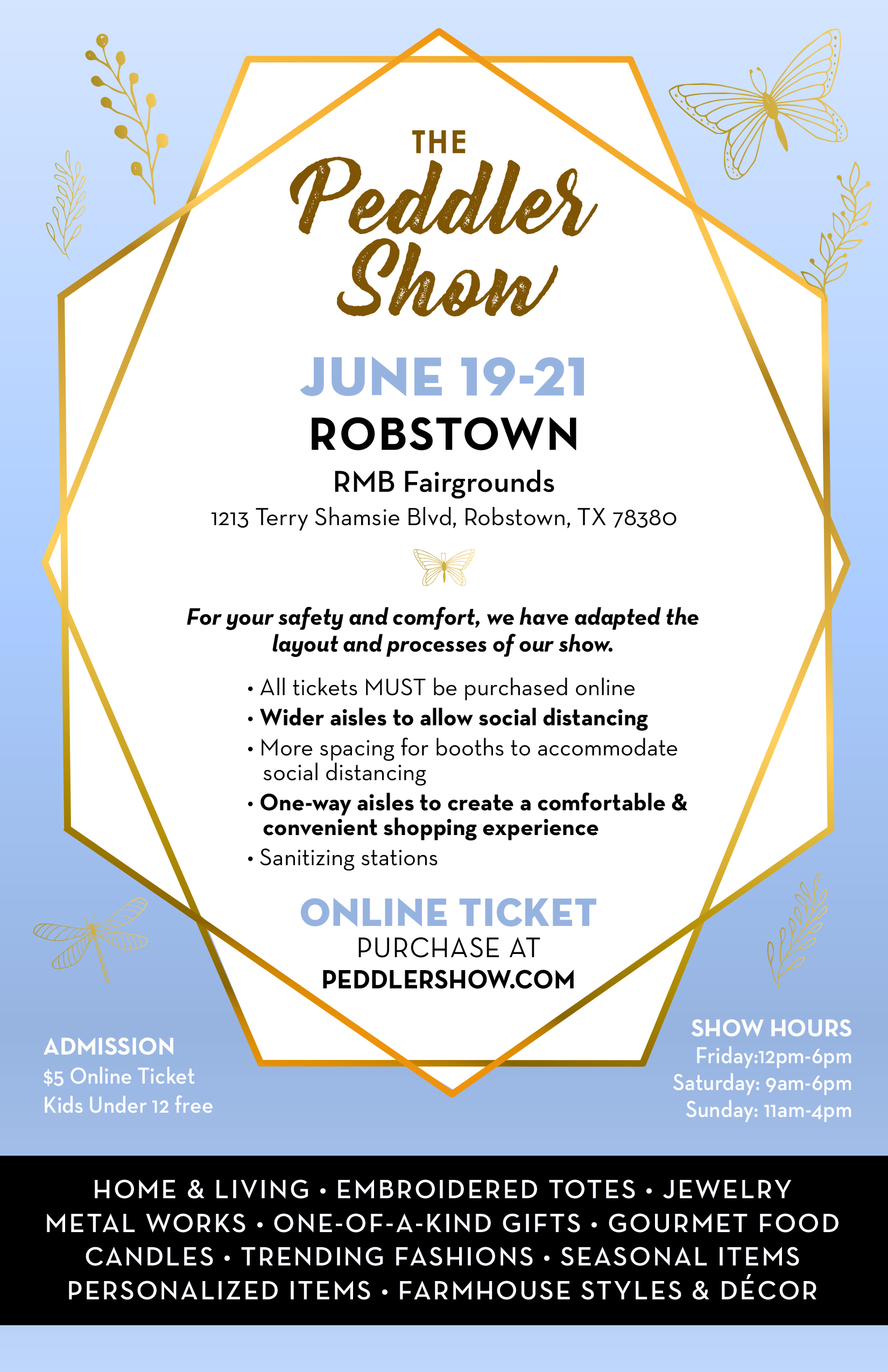 The Peddler Show will be held in the Marvin and Laura Berry Pavilion at the Richard M. Borchard Regional Fairgrounds. See below for parking instructions and where the event will be held.